If you suffered injuries in an accident, you need a personal injury lawyer in Doral on your side to help you file a claim to recover damages. Our attorneys, at the Law Firm of Anidjar & Levine, have filed hundreds of cases stemming from motor vehicle crashes, slip and falls, medical malpractice, and other personal injury accidents. In the days and weeks following an accident, our team will work tirelessly to make sure you and your family receive the financial support you need during this difficult time.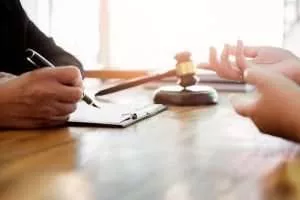 Our Attorneys Will Assist You Every Step of the Way
A personal injury lawyer from our firm helps with every stage of the accident claim process with the goal of acquiring financial awards for our clients. When you hire our firm to represent you, here is a general outline of the steps we take to help you.
We want to make sure we have all the facts surrounding the circumstances of your case. We will review the evidence from the scene and talk to witnesses who were present at the time of the accident. We will also consult with scientific experts and accident reconstructionists to recreate the incident and determine fault and causation. For example, if you were in a motor vehicle accident, our experts may conclude that the other driver was likely speeding at the time of the crash based on the tire marks on the roadway and severity of the vehicle damage.
We will also evaluate the severity of your injuries, prove the accident caused them, and establish the value of your injury-related damages. We will review your medical records, talk with your physicians, and consult with medical experts to find out more.
Our attorneys help accident victims file an insurance claim with their insurers and the other parties' insurers. Motor vehicle accident victims in Doral can recover up to $10,000 in Personal Injury Protection (PIP) benefits through their insurer, regardless of fault. Victims of a slip and fall may rely on a property owner's liability insurance to recover damages.
Filing a claim for insurance benefits is a complex process that requires cooperation with the insurance company. For accident victims suffering from injuries, handling extensive paperwork and pushy insurance adjusters is overwhelming. Our attorneys can make things much easier for you by:
Providing the insurance adjuster with necessary documentation (e.g., medical records)
Communicating with the insurer and answering all questions relating to your claim
Preparing you to give a statement to the insurer without admitting liability
Negotiating settlement offers and advising you on whether to accept an offer
Negotiate a Settlement or File a Lawsuit
In all likelihood, the first settlement offer from the insurer will not be enough to cover all your damages, particularly if you are suffering from severe injuries. A personal injury lawyer from our firm will attempt to negotiate a fair settlement, but can file a lawsuit against the parties responsible for causing your accident and injuries if the insurance company refuses to make a fair settlement offer. We might even file a lawsuit against your own PIP insurer if they fail to pay the money they owe you.
First, we will determine whom to name in the lawsuit. These parties may include:
Property owners
Motorists
Trucking companies
Business owners
Dog owners
Once we have identified the defendants, we will prove negligence by:
Presenting evidence (e.g., police reports, photos, witnesses) to show that the defendants breached the duty of care they owed to you at the time of the accident
Establishing through expert testimony that their breach of duty caused your accident and injuries
Presenting medical records and lost wages to establish your injuries and damages
If we can prove that the other parties are liable for your injuries, they will owe you damages.
Value Your Claim
To recover damages, we need to tell the court how much we believe your claim is worth. To do this, we need to value the claim by adding up your economic and non-economic damages.
Economic damages refer to tangible costs such as medical bills and lost wages. While there is no tangible way to measure non-economic damages, people will ask for damages to cover their pain and suffering. The value of your claim will depend on multiple factors such as the severity of your injuries and the circumstances of your accident.
Let a Personal Injury Lawyer in Doral From Anidjar & Levine Help You Get the Settlement You Deserve
No matter what type of personal injury accident you were involved in, the attorneys at Anidjar & Levine are here to help. If you suffered injuries in an accident, call 888-494-0430 today for top-of-the-line legal representation.