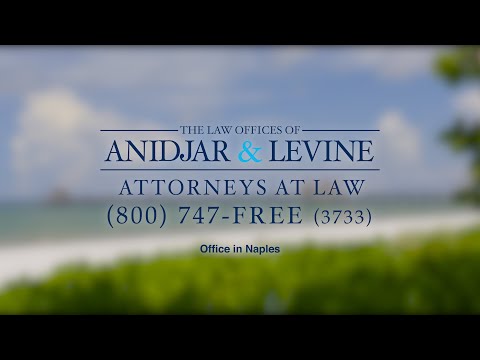 When you suffer injuries because of someone else's careless or reckless behavior, Florida law gives you a path to compensation for your medical care, lost wages, and other damages. Often, this calls for filing a liability insurance claim based on the at-fault party's policy or filing a personal injury lawsuit in civil court.
At the Law Offices of Anidjar & Levine, our personal injury lawyers have the resources to handle any type of negligence case. You can learn more about our services during a free case review. During this time, a team member explains how a personal injury lawyer with our firm in Fort Myers could help you seek damages against those who caused your injuries.
Recovering Damages in Fort Myers Personal Injury Cases
Our lawyer can review your situation to determine if you can move forward with legal action involving a personal injury. The damages that are usually recovered in these cases depend on several factors unique to each case, including the seriousness of the person's injuries and losses, how long they were affected, and how they were affected either temporarily, permanently, or both.
If you can bring an insurance claim or lawsuit forward, you will first have to determine what damages you suffered and how much each one cost. This can be challenging to do with damages that are hard to measure, such as pain and suffering. Our lawyer can assess those kinds of damages for you and determine how much they are worth.
Damage Types in Personal Injury Cases
Damages usually fall into two categories: economic damages, which have a specific dollar value, and non-economic damages, which do not have a dollar value. Your losses can fall into either category or both, and you can seek financial recovery for both as well.
Economic damages can be proven with receipts, invoices, or other documentation that shows how much something costs. Examples of economic damages are:
Medical bills: Any sort of medical expense could entitle you to compensation, from prescription medicines to surgery to home nursing. You could even recover travel expenses if your medical facility is far enough away.
Lost wages: This refers specifically to a temporary reduction in income caused when you took time off on account of your injuries.
Reduced ability to earn: For those who are permanently unable to earn or work as much as before the accident, we can estimate the value of your lost earning capacity and how much you would have earned throughout the remainder of your career.
Property damage: This commonly refers to a damaged car. However, you could also be compensated for lost or damaged jewelry, electronics, and other items.
Other expenses: For example, you could seek reimbursement for the cost of hiring a lawyer or paying someone to mow your lawn until you recover.
Non-economic damages include pain and suffering, as mentioned earlier, which includes both physical and psychological distress resulting from the accident. Other examples include:
Mental anguish: The physical pain of your injuries also led to emotional anguish or trauma.
Loss of consortium: The accident has negatively impacted your relationship with your spouse or other relatives with whom you used to be close.
Scar tissue: In particular, scarring to the face and neck can qualify you for compensation. However, any scarring that is severe enough to impact your life in some way may be compensable.
Disability: Any loss or diminishment of your physical or intellectual capabilities can make you eligible for settlement money.
Diminished quality of life: The overall impact of the accident makes it difficult or impossible for you to enjoy the full range of activities and experiences you once did.
Knowing How Much Your Case Is Worth Puts You Ahead
Our lawyer can add up all of your damages to get the value of your case. Working with an attorney helps ensure all of your damages are reviewed and accounted for, and it gives you the dollar figure for how much your case is worth.
This information is very important as you move forward with your case. It can help you avoid accepting an insurance settlement that falls short of meeting your current and future needs.
We can help you evaluate any insurance offers that may come your way, but be aware that you do not have to accept them. Insurance companies are known to lowball injured victims whose cases are worth more than what they are offering. We will advise you as you consider your options, and we leave the final decision up to you.
We Can Determine If You Can Pursue Wrongful Death Damages
Sometimes, personal injury cases result in death. If you lost a loved one, please accept our condolences. We can help you recover damages if the decedent died from personal injuries suffered after an incident they did not cause. If our lawyer can help you win your case for these damages, you could recover several losses under Florida Statutes § 95.11(4)(d). These include:
The decedent's burial, funeral, or cremation cost
Medical expenses due to the decedent's injury
Loss of the decedent's earnings
Mental pain and suffering they endured
Mental pain the decedent's survivors endured
Loss of the loved one's companionship and guidance
Losing a loved one is hard enough without getting entangled in legal matters. Allow our firm to help you through this difficult time.
How the Law Offices of Anidjar & Levine Can Help You
When you contact us, we go to work collecting the evidence to support your case. We may bring in experts to help us understand your injuries and researchers who can help us identify any similar cases. We have extensive experience navigating all types of personal injury claims. We can put that to work for you to get the money you need to pay for your medical bills, lost wages, pain and suffering, and other losses.
Once we have all the available evidence in your case, we can file a claim to hold the at-fault party liable for your injuries. Often, this is a third-party insurance claim based on the liable party's auto, homeowner's, or business insurance policy.
We can use our estimation of the value of your case to determine a fair settlement value for your claim and negotiate aggressively to get the settlement you deserve. Most cases settle during this process.
Can You Afford a Personal Injury Lawyer?
At the Law Offices of Anidjar & Levine, we do not get paid unless you do. We are a contingency firm, which allows us to help our clients seek financial recovery and justice as soon as possible without paying up front to start a case. We do not have hidden fees, either. We receive our payment later from the compensation we win on our clients' behalf. If they do not win, we do not get paid.
For many people, contingency agreements allow both parties to work together and lower the barrier to receiving legal representation they feel they need. We can speak more with you about any questions or concerns you have about affordable legal services.
We Have Years of Experience Handling Personal Injury Cases
We have represented many clients in personal injury cases, ensuring their rights are protected as they seek to restore their losses and their lives. We can fight to get you the compensation that you are entitled to receive. Consider what our clients have said about working with us:
I was very pleased with the service I received from the law firm of Anidjar and Levine. I was glad I picked this law firm to represent me. Shire was very attentive and worked hard to make sure all of my concerns were sufficiently addressed. I would highly recommend this law firm to anyone!
– Viviana J.
What unbelievable professionalism. If you have to hire an attorney to represent you during a difficult time, there is no other choice than Anidjar and Levine. Everyone I dealt with was great. Special thanks to Jonathan Holtz.
– Charles L.
I have nothing but good things to say about the Law Firm of Anidjar & Levine. This is a very professional, courteous and caring group which work hard for their clients. I am very happy with how they handled my car accident case and with the results. Thank you Ana for always being so pleasant and to Attorney Jonathon Holtz for all you did for me. I would definitely recommend this law firm… and would definitely use them again.
– Sonia G.
Statute of Limitations Deadlines do Apply in Personal Injury Cases
If we cannot reach a settlement with the insurance company, state law, per Florida Statutes § 95.11(3)(a), typically gives us four years to file a civil lawsuit against the responsible party and collect the compensation you deserve.
Although this is considerable time to bring a case forward, we encourage you to start as soon as possible while the details are still fresh in your mind, as well as in the minds of any witnesses you may have.
If you miss this statute of limitations deadline in your Fort Myers personal injury case, you risk losing your chance to recover financial awards. You can speak with a team member during a free consultation to learn more about how a lawyer with our firm can help you pursue your case.
We Handle These Personal Injury Cases in Fort Myers
Negligence leads to personal injuries in various ways. Almost any type of careless or reckless action can cause another person to suffer injuries and require medical care. If this happens to you, you may be eligible to file an insurance claim or a civil suit for compensation.
Some of the ways we see our clients suffer personal injuries include:
Boating accidents
Children's injuries
Defective products
Electric shock
Head-on collisions
Negligence
Nursing home abuse and neglect
Paralysis
Pedestrian accidents
Rear-end accidents
Side-impact collisions
Swimming pool accidents
Truck and big rig accidents
No matter what type of accident caused your injuries, we can help you evaluate your situation and identify your legal options for financial recovery. Then, we can navigate the claims process for you and ensure you get the maximum amount of compensation you deserve for your personal injuries.
Proving Negligence Is Important to Your Case
To prove a personal injury case, we need to collect evidence to show the at-fault party acted negligently, and this directly caused your injuries. If we cannot prove the other party acted negligently, we do not have a case against them.
To document their negligence, we need to show:
They had an obligation to prevent harm to others.
They failed to keep this obligation.
Their failure to do so caused an accident.
As a result of your accident, you suffered actual physical, emotional, and financial damages.
If we can satisfy these elements of negligence, we likely can prove your case for damages against the liable party. We can support our case by collecting a wide range of evidence about your accident and the injuries you suffered. Depending on how your injuries occurred, this evidence can vary. Common sources for evidence include:
Reports from police or other first responders
Pictures or video of the scene
Surveillance video of the incident, if possible
Witness testimony
Expert witness opinions
Documentation of your injuries and treatment
What If I Played a Role in Causing My Accident Injuries?
In some cases, it could be determined that you played a role in the injury or damage that occurred. Even if this occurred in your case, you can still collect compensation. However, the state's comparative negligence laws, as explained in Florida Statutes § 768.21, reduce the compensation you can recover based on the percentage of fault you carry.
We commonly see comparative negligence in personal injury accidents when someone wears shoes that do not have adequate grip and then suffers injuries in a slip and fall accident. In a case like this, the property owner's insurance company may blame the victim's shoes for their injuries, while the victim blames a wet floor for causing their fall.
If the case is worth $10,000, but the victim was 30% at fault, they can only collect $7,000 from their claim. We aim to show that our clients' liability is as low as possible and mitigate the impact this has on their payout.
Who Can I Sue for a Personal Injury Accident?
Anyone who played a role in causing your accident may be held liable for the resulting injuries, provided we can find sufficient proof of their involvement. A liable party could be an individual, such as:
A driver who ran a red light or did not yield the right of way
A dog owner who failed to keep their animal restrained
A property owner who did not address a hazard on their property in a timely manner
Alternatively, a liable party could be an organization or even a government entity, such as:
A trucking company whose vehicles do not adhere to national or state safety standards
A city or municipality that failed to keep the roadway in good repair
A manufacturer that failed to properly test their products or to promptly recall a product they knew to be dangerous
Many personal injury lawsuits target just one liable party. However, if more than one party contributed to your accident, you have the right to sue them all for compensation. This way, you get the money you need while holding all negligent parties accountable for what they have done.
The rules for filing a suit may change depending on who you sue. For example, while you have four years to file most personal injury cases, you have just two years if you suffered medical malpractice. To protect your right to sue, it is a good idea to get in touch with us as soon as you can following an accident.
Call Us About Your Fort Myers Personal Injury Today
At the Law Offices of Anidjar & Levine, we offer complimentary consultations to Fort Myers personal injury victims. Our team of lawyers is ready to go to work for you. Let us investigate your case, collect evidence, and provide the legal representation you need both in and out of the courtroom.
If you suffered injuries because of someone else's negligence, don't wait to build your case for compensation. Call us today at 1-888-494-0430 to speak with a team member about your free case review.