If you've been hurt as a result of someone else's negligence, the at-fault party should be held responsible for their actions. According to Florida personal injury laws, the negligent party is often liable for your hospital bills and other damages caused by the accident. A personal injury lawyer from the Law Offices of Anidjar & Levine in Orlando, Florida, will aid you in reclaiming the financial compensation you're due.
And because we work on a contingency fee basis, we can do it without adding to your financial stress. There are no upfront fees, and if we can't win your case, we won't charge you at all. Call us at (407) 500-4000 for more information and a free consultation.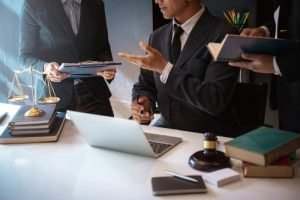 Why Hire an Orlando Personal Injury Lawyer From Our Firm?
Our team of personal injury attorneys in Orlando will investigate your accident to identify who was at fault for your injuries and collect evidence to build your case. We will handle all negotiations with the insurance company to get you a fair settlement or represent you in court for a lawsuit. Along the way, we will also:
Explain your legal options and offer advice to help you make sound decisions
Advocate for your financial recovery
Assign a value to your case that addresses all your recoverable damages
Keep track of the state's filing deadline so that it doesn't expire before you can initiate a lawsuit
Our attorneys are here to support you through each stage of the claims process.
We Bring Our Personal Injury Clients Peace of Mind
The aftermath of an injury can be hectic and challenging to navigate. We are honored to be there for our clients in their time of need and simplify Florida's personal injury process. In exchange, our clients leave Google reviews like these:
"First accident but the firm made it a very good experience. Very responsive when it comes to questions and keeping you informed with the case great lawyers overall." – Accident client
"Shire is a awesome lawyer, very nice and kept his word with helping me settle a nice amount in my accident. He was very honest with me and made sure my case was handle with proper care." – Valencia Mitchell
"The office staff was always friendly and professional as well. I'd highly recommend this firm if you want a group of individuals who have their clients best interest in mind." – Amanda Bragg
At the Law Offices of Anidjar & Levine, we strive for this level of customer satisfaction in every case we handle.
Our Attorneys Will Come to You
If you can't come to our Orlando office located at 4767 New Broad Street, we'll come to you at no extra cost. Our team can visit you at home or work if this is more convenient. We'll even meet with you at the hospital if you are still receiving treatment, so there is no need to postpone your case. 
You Will Have 24/7 Access to Your Lawyer
Once we sign on to your personal injury case, you'll be able to contact your attorney any time you have questions or concerns. While our team provides case updates regularly, we want to ensure you never feel left in the dark about the status of your claim or lawsuit.
Our Services Will Cost You Nothing Out of Pocket
Our firm has a contingency fee policy, meaning our payment is contingent upon winning your case. Instead of charging upfront fees, we take a percentage of the compensation we win for you at the end of the process. You'll never pay out of pocket, so there is no risk in hiring one of our attorneys to represent you.
Compensation for Your Orlando Personal Injury Case
Depending on the details of your accident and the extent of your injuries, we can help you determine the compensation you may qualify for. We can discuss your case at length during your free consultation. To go into detail, we will need to review your case and investigate the accident.
Our experienced team of Orlando personal injury attorneys can help you obtain the following compensation:
Medical treatment costs
Cost of care
Mobility aids and accessibility device costs
Lost wages
Property damage
Pain and suffering
We can give you a better understanding of your options for reclaiming damages when you speak to one of our Orlando personal injury lawyers.
Where to Start with a Personal Injury Claim
After you've been hurt in an accident, the last thing you want to deal with is confusing paperwork and calls with insurance. The entire process can be simplified by working with an Orlando personal injury attorney. In all likelihood, we can help you get a fair settlement without stepping foot in court.
The first option we explore is an insurance settlement if the negligent party carries:
Homeowners insurance
Auto insurance
Business liability
Insurance policies cover a multitude of situations. For example, Florida homeowners insurance policies often include premises liability. This may offer a financial solution to the victim of a dog bite. Depending on your specific case, filing an insurance claim may be your best option.
Filing an insurance claim can be complicated. Insurance companies are famous for being stingy with settlement offers and unwilling to negotiate. They might try to prove the accident was your fault or deny your claim. Retaining a personal injury lawyer in Orlando will save you from this hassle. Your attorney will deal with your insurance company for you.
Your Legal Options with an Uninsured, Negligent Party
Even if the at-fault party is underinsured or doesn't have insurance, you still deserve to be compensated for your losses. If an insurance settlement is out of the question, a personal injury attorney in Orlando will help you file a lawsuit to regain your financial stability. Our team will advocate for you in court and uphold your right to compensation.
The Evidence Our Personal Injury Attorney Will Collect to Support Your Case
Whether you seek repayment from an insurance claim or a lawsuit, you will need to gather evidence to support your case. Your personal injury lawyer in Orlando, FL, will be an asset to you when it comes to collecting evidence, such as:
Pictures of the scene from the day of your accident
Pictures of your injuries
Your testimony
Florida Traffic Crash Report
Witness statements
Nearby surveillance footage
Social media activity related to the incident
Proof of the hazard that caused you harm
You'll need to collect as much evidence as possible to build a strong case, even if you expect a straightforward insurance claim. Collecting all this evidence can be a daunting task. You can rely on your personal injury lawyer in Orlando to complete this step for you in an orderly manner.
We Handle a Multitude of Personal Injury Cases in Orlando
If you've been hurt in an accident in Orlando, Florida, a personal injury lawyer can help. Our knowledgeable team at the Law Offices of Anidjar & Levine will aid in your pursuit to claim the financial compensation you deserve.
Our practice areas include but are not limited to:
Medical malpractice
Slip and fall accidents
Car and truck accidents
Defective products
Dog bites
Even if the incident that led to your injury isn't on this list, we could offer legal support. Our team is ready to discuss your case today.
When Should You Start Seeking Compensation for Your Injuries?
You don't have long to sue another party for your injuries, so it's best to get started as soon as you can. Depending on the circumstances of your accident, a statute of limitations may apply. Florida generally allows you four years from the date of your injury to file a Florida personal injury lawsuit under Florida Statutes § 95.11(3)(a). 
Call the Law Offices of Anidjar & Levine Today
Our team of Orlando personal injury lawyers is standing by to answer your call 24/7. Call us today at (407) 500-4000 to get started. You may have a limited amount of time to file your claim.